News Article
EDC & SRI in JOCAM
Tuesday, March 15, 2016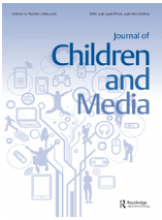 A new article, "Dramatic Change, Persistent Challenges: A Five-Year View of Children's Educational Media as Resources for Equity" is featured in the special commemorative issue of Journal of Children and Media. The article provides a review of the Corporation for Public Broadcasting (CPB)-Public Broadcasting System (PBS) Ready To Learn Initiative within the educational media landscape.
CCT director Shelley Pasnik is co-author, along with Carlin Llorente (SRI Senior Research Social Scientist), Naomi Hupert (EDC Research Scientist), and Savitha Moorthy (SRI Senior Education Researcher). The authors have collaborated for 10 years to measure children's learning outcomes under the Ready To Learn initiative, and have published findings from multiple randomized controlled trials and context studies in a series of reports and articles during that time. In April 2016, the team will present their Ready To Learn research during two symposia, "Ready to Learn PBS KIDS Transmedia Supports Math Learning for Underserved Children Across Settings" and "Using Curated Public Media Resources to Support Children's Mathematics Learning," at the 2016 Annual Meeting of the American Educational Research Association in Washington, DC.
The article is available here for free downloadfrom March 15–April 30.