News Article
Getting Ready to Learn
Monday, December 10, 2018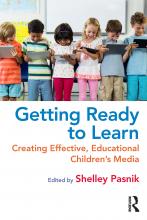 EDC vice president and CCT director Shelley Pasnik is the editor of the new book Getting Ready to Learn: Creating Effective, Educational Children's Media, just published by Routledge.
The book describes the role of educational media in meeting the learning needs of children, parents, and teachers, and is based on years of data from the CPB-PBS Ready To Learn Initiative (supported by the U. S. Department of Education).
From Emmy-Award-winning series to randomized controlled trials, chapters cover the media production, scholarly research, and technological advances surrounding some of the country's most beloved programming, with contributions from EDC, SRI, the Corporation from Public Broadcasting, PBS, Fred Rogers Productions, WGBH, UCLA-CRESST, Digital Promise, and many others, and with a foreword by Dr. Alice Wilder and Sir Ken Robinson.