News Article
New App Applies Our Research
Thursday, October 30, 2014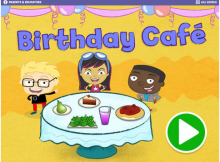 The first app developed as part of CCT's Next Generation Preschool Math project has been released in the Apple App Store. "Gracie & Friends Birthday Cafe" draws on NSF-funded research conducted over the past three years by CCT and partner SRI International into appropriate uses of technology in preschool classrooms.
"Technology is becoming more and more prevalent, as the tools become smaller, more affordable, and include touch-screen technology," said CCT's Ashley Lewis Presser, the project's Primary Investigator. "The key is being able to leverage the benefits of tablets in ways that remain developmentally appropriate for fostering young children's learning, developing other skills such as collaboration, and doing all this in a fun and engaging manner."
"Gracie & Friends Birthday Cafe" is the first of a suite of Early Math with Gracie and Friends™ apps developed by First 8 Studios at WGBH to introduce math concepts to very young children. The others will be introduced in the Apple App Store over the next few weeks.
More information about Next Generation Preschool Math is available here.
A press release with Information about WGBH and First 8 Studios is here.
See the "Gracie & Friends Birthday Cafe" app in the Apple App Store.