News Article
New Report on the State of Cyberlearning
Monday, October 2, 2017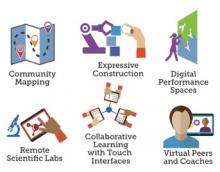 The Center for Innovative Research in Cyberlearning (CIRCLE) has released The Cyberlearning Community Report: The State of Cyberlearning and the Future of Learning with Technology.
Co-authored by 22 members of the U.S. cyberlearning community, the report describes six design themes that are emerging across multiple NSF-funded cyberlearning projects.
For each design theme, the report highlights computer science and learning science innovations, provides examples, and discusses opportunities and challenges. The authors also highlight how cyberlearning researchers are advancing methods to study and improve these learning designs. 
For more information, and to access a downloadable pdf of the full report, go to http://circlcenter.org/resources/community-report/