News Article
Technology for the World's Children
Thursday, November 20, 2014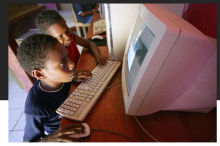 On the 25th anniversary of the international Convention on the Rights of the Child, the United Nations has released a report titled, "The State of the World's Children 2015: Reimagine the Future." We are honored that CCT's Daniel Light was chosen to write the chapter on technology, teaching, and learning.
"Technology is only a small part of a successful transformation in education," says Dr. Light. "Successful e-learning projects require policy changes, new teaching practices, new education resources, and additional training and ongoing support for educators—all of which are where the real educational benefit lies."
Dr. Light's chapter, "A Technology Ecosystem to Support Learning," is available by clicking here.