News Article
U.S. Dept. of Education Highlights Impact of Ready To Learn
Wednesday, April 13, 2016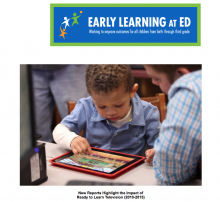 The lead story in this week's "Early Learning at Ed" newsletter from the U.S. Department of Education is titled, "New Reports Highlight the Impact of Ready To Learn Television (2010–2015). The article reviews the impact of the transmedia approach pioneered by Ready To Learn funding over the latest five-year grant period, and includes the following links:
• Supporting Parent-Child Experiences with PEG+CAT Early Math Concepts
• "Dramatic Change, Persistent Challenges: A five-year view of children's educational media as resources for equity" (article in a special issue of The Journal of Children and Media)
• Reflections on the Ready To Learn Initiative: 2010–2015
The article points out that "researchers generally found positive and significant resutls when using RTL-produced transmedia products."
More information on the Ready To Learn Program can be found on the U.S. Department of Education website; access to a full range of EDC's Ready To Learn studies and reports is available at the Ready To Learn Summative Evaluation website.