News Article
Where in the World is CCT?
Thursday, May 23, 2013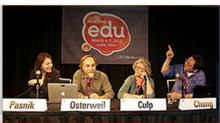 Where in the world (city and state) was the conference where this photo was taken of a panel featuring CCT's Shelley Pasnik and Katie Culp? Send your answer using the contact form here; the first person with a correct response will receive an EDC notebook, personally inscribed by both CCT's Director and Director of Research.