Funders & Partners
CCT's funders and partners have made possible 30 years of innovative research, evaluation, and exploration of learning and technology. We're pleased to have worked with so many forward-thinking corporations, government entities, foundations, and non-profit organizations, and to have contributed to their projects and initiatives. We thank them for their past and continued support.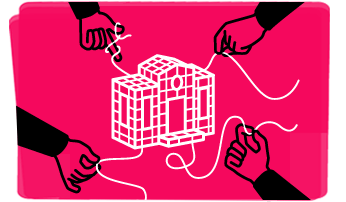 A.L. Mailman Family Foundation
AAA Foundation for Traffic Safety
Academy for Educational Development
Adobe Systems Incorporated
Alliance for Technology Access
American Association for the Advancement of Science
American Institutes for Research
American Museum of Natural History
AOL Time Warner Foundation
Bank Street College of Education
Bell Atlantic Video Services
Boys and Girls Clubs of America
Brooklyn Technical High School
Carnegie Corporation of New York
Carnegie Hall Corporation
Chase Manhattan Foundation
Children of Alcoholics Foundation, Inc.
Children's Television Network
City of Union City, New Jersey, Housing Authority
Community School District 18 (New York City)
Community Technology Centers' Network
Computers for Youth Foundation
Corporation for National and Community Service
Corporation for Public Broadcasting
Council for Basic Education
DeWitt Wallace-Reader's Digest Fund
Education and Research Consortium
Fort Worth Museum of Science and History
Illinois State Board of Education
Inter-American Development Bank
JASON Foundation for Education
Lawrence, N.Y., Public Schools
Learning Point Associates
Mamaroneck, N.Y., Board of Education
Merck Institute for Science Education
Minneapolis Public Schools, Special School District No. 1
Montgomery Blair High School, Silver Springs, MD
National Council of La Raza
National Education Association
National Endowment for the Arts
National Endowment for the Humanities
National Institutes of Health
National Science Foundation
New Jersey State Department of Education
New Mexico Public Education Department
New Mexico State University
New Visions for Public Schools
New York Academy of Science
New York City Administration for Children's Services
New York City Board of Education
New York City Museum School
New York Foundation for the Arts
New York State Council on the Arts
New York State Education Department
New York Times Foundation
Newark, N.J., Public Schools
North Central Regional Educational Laboratory
Partnership for 21st Century Skills
Pennsylvania State University
Research Foundation of the City University of New York
Resolving Conflict Creatively Program
Rhode Island Department of Elementary and Secondary Education
Teachers College, Columbia University
The Aaron Diamond Foundation
The After School Technology Corporation (TASC)
The Annenberg/CPB Projects
The Atlantic Philanthropies (USA) Inc.
The Carl and Lily Pforzheimer Foundation
The Center for Arts Education
The Children's Aid Society
The Rhode Island Foundation
The Rockefeller Foundation
U.S. Agency for International Development
U.S. Department of Education
U.S. Department of Education, Office of Educational Research and Improvement
U.S. Department of Energy
U.S. Department of Health and Human Services
Union City, N.J., Board of Education
Whitney Museum of American Art
Yonkers, N.Y., Public Schools
Accommodation Resource Center
Argonne National Laboratory
Bolt, Beranek, and Newman, Inc.
Campbell-Kibler Associates
Children's Digital Media Center
Community Districts 4 and 5 (New York City)
Educational Testing Service
Eureka! Teen Achievement Program
Hunter College's Center for Puerto Rican Studies
Johns Hopkins Center for Talented Youth
Lexington School for the Deaf
Maryland Virtual High School
National Foundation for Teaching Entrepreneurship
New York City Public Middle and High Schools
Progressive Baptist Church
Rhode Island Indian Council
University of Chicago's Center for School Improvement
University of Southern Maine
Western Illinois University